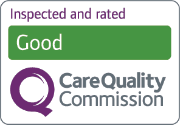 Unique Senior Care in Cheltenham
The historic spa town of Cheltenham, renowned for its regency architecture is nestled in the beautiful Cotswolds and has plenty to do and see for people of all ages, including the elderly.
Our team at Unique Senior Care provides a wide range of bespoke, relationship based domiciliary care services that are designed to suit you and your needs.
Our aim is to always care for you or your loved one with compassion, dignity and respect, to enable you to live where you are happiest ie in your own home. From hourly calls for companionship, personal care, and home help to live-in or 24 hour care, we can support you no matter how simple or complex your needs are.
You can be assured that our directly employed compassionate carers are all DBS checked before starting, and PCR tested for COVID-19 on a weekly basis. They are experienced, compassionate and have the hands-on experience to ensure you or your loved one receives high quality one-to-one homecare which can include hourly care from daily visits, respite care, overnight support, live-in care, palliative/end of life care or specialist complex care.
Unique Senior Care opened more than 10 years ago by Philip Maundrill and Philip Wright-Howarth following their own personal experiences, and having been responsible for the care and support of loved ones who had required specialist support for Dementia and a life-long Learning Disability. Based on their learnings, they wanted to create a home care service where the health, wellbeing and welfare of the people they cared for was put at the centre of all their services. The organisation's motto became 'People above all else'.
Our aim is to ensure our carers support you to do the simple things that make life easier, like preparing a meal, helping with getting up and around, or some light house-keeping – as well as enabling you to get out to socialise at the village hall/community centre to meet friends or have a cup of tea with a slice of cake at the local café.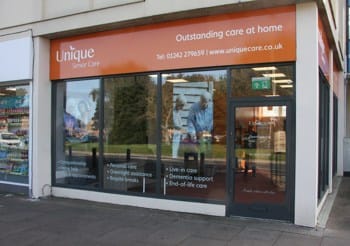 Call us now on

01242 279 659

to hear more about how we can help you.
So, why are we different?
You can rely on us to turn up on time – every time.
We will never send a stranger, and as far as possible, we will send the same person.
Our staff do not wear a uniform, so when they take our clients out, they just look like a family member or a friend.
We do not believe quality care can be provided in 15 or 30 minute slots – so with us it is a minimum of 1 hour.
Our reputation is very important to us – so we will never compromise on our high standards.
We only employ carers who pass our 'Mum Test' i.e. who we would allow to look after our own loved ones.
Services we offer in the Cheltenham area:
Our hourly domiciliary calls can be anything from just an hour a day to numerous visits per day (or week), and we can provide longer calls to provide additional company. Should you be concerned about leaving your loved one alone overnight, we can also be on hand to provide waking or sleeping night support.
We can be called to be on hand day and night if you need a care call to assist with household chores, washing and dressing, a lunch time or tea call. If your loved one has more specialist and complex needs such as Parkinson's or Dementia or has suffered a stroke, our experienced carers can provide the bespoke care required.
All of our care is specifically organised to fit in with our client's lifestyle and personal needs and we always work closely with their families to put together a care plan that will fulfill their unique personality and preferences.
Sometimes your loved ones reach a point in their life, where their care and support needs increase to a level where hourly care is no longer the ideal option. In these circumstances residential care or a nursing home may not be the only alternative solution.
Our fully managed Live-in 24 hour care service is able to support your loved one around the clock and allow them to live where they prefer to be – in the comfort of their own home, surrounded by the things they love.
Your carer will get to know your loved one's daily routine and preferences and focus on their needs to ensure they are able to remain independent for as long as possible, but with the re-assurance that care is on hand when it is required.
We will take care of everything, including all the employment related issues. We directly employ all of our carers, and you can be assured that our service is fully regulated by the Care Quality Commission (CQC), unlike 'introduction agencies' supplying un-regulated self-employed staff.
Additionally, live-in care can be a cost-effective alternative to a nursing home or residential care – especially for a couple living together.
If you are looking for a little, or a lot of support, then do give us a call on

01242 279 659
Hourly Homecare Visits in and around Cheltenham
Homecare may not be something your loved one is quite ready for, but they may benefit from some help around their home, in which case we are able to help with our home help service.
If some dusting, vacuuming or a spring clean or some shopping would help now and again, our friendly team can provide some domestic assistance to keep your home lovely condition.
A good home cooked meal is also something which our carers would be willing to make too.
It is well known how loneliness and self-isolation can have a major impact on health – particularly with the elderly. This is why our companionship service is such an important part of what we do – and can help our clients live a more fulfilling life.
We can be on hand to provide a companionship or social call to enable you to pursue an interest or hobby, attend a family event or simply go out for a slice of cake and a cup of tea at the local Garden Centre.
Our team love providing companionship calls as they can be so varied and rewarding and they  immediately see how they are enriching our clients daily lives.
We fully understand that personal care is just that: to us, it's very personal.
Our experienced care team are trained to safely and sensitively provide support with those daily tasks, like getting up in the morning, washing, dressing, shaving and managing any medication requirements. We will always ensure that our care support plans are designed and written to meet the individual needs of our clients.
Changes in your loved one's personality and the onset of dementia with all its associated challenges can be life altering for your loved one and worryingly devastating for you.
We can help your loved one (and you) with our specialist dementia trained team of carers. Supported by our in-house Dementia Champions, full-time Memory Support Worker and knowledgeable learning and development team, our carers will work alongside you and the wider health team of GP's, Admiral Nurses, the pharmacy, etc. to ensure your loved one benefits from a consistency of routine and care, and that any condition changes are reviewed within the care plan.
We fully understand the challenges and responsibilities that being an 'informal' or family carer can bring. Respite care provides an opportunity for you to have a much-needed break from the daily demands of looking after a loved one.
Support can be as simple as giving you an hour a day (or longer if required) or we can provide overnight waking or sleeping calls so you can get some much-needed quality rest. Alternatively, if required we can help with full-time live-in care to allow you to benefit from for an extended break.
Palliative/end of life care
Facing the need for end of life or palliative care can be a hugely emotional, distressing and worrying time, so we can be available to provide the specialist help and care when you need it most.
Our carers are trained and experienced in providing the very special level of support that is required at this time. Compassionate, sensitive and kind; they will provide as much one to one care and support as is required, they will work alongside your Doctor, District Nurses, and Hospice to ensure your loved one receives the highest level of personalised support.
We want you, your family and loved one to be able to spend as much quality time together whilst we focus on ensuring they are as comfortable as possible.
Many of our clients have specialist complex needs and we are able to offer a range of hourly, live-in and specialist care services for people living with a learning disability, cancer, dementia, or Parkinson's.
Whist your loved one may have a specialist need, this should not prevent them from living independently, supported by our expert carers who are experienced in providing specialist care at home.
Meet Carolyn, our Registered Care Manager for Cheltenham and Gloucester
Carolyn is responsible for our service in Cheltenham, Gloucester and surrounding areas – and has a wealth of knowledge and experience in caring for the elderly following her 15 years' working in health and social care.
Over the years, she gained experience within residential care homes and nursing homes, specialising in elderly care and has benefitted from a wealth of training.
Working her way up through roles starting as a Support Worker through to an Area Manager and gaining qualifications in dementia care and mental health awareness, as well as her Level 5 in Health and Social care, Carolyn enjoys learning and developing herself and is currently studying towards her Level 7 in Health and Social care.
Carolyn is very passionate about the care people receive and ensuring all clients get the high quality care they deserve. She enjoys working with her team and leading from the front, believing that everyone has a right to be happy with the care and support they receive. Carolyn enjoys making a difference to people lives and is always focussing on ensuring they receive a bespoke, outstanding service which ensures they are cared for with respect and dignity.
Unique Senior Care's ethos and values of always focussing on providing the very highest quality care for our clients is what attracted Carolyn to join the organisation.
Outside of work Carolyn enjoys spending time with my husband and 3 children. They have three very large dogs and enjoy taking them for long walks in the countryside.
Carolyn
Regional Care Manager
92 Edinburgh Place
Cheltenham
GL51 7SE
Monday – Friday 08:30am-8:00pm
To talk to a member of our team about how we can help you. Someone is available to discuss all Care enquiries 24 hours a day, seven days a week.