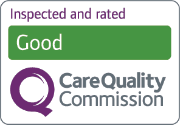 Unique Senior Care in Churchdown
Unique Senior Care can provide all of your homecare requirements with our broad range of homecare services available to Churchdown residents from our experienced team based in Cheltenham.
All of our domiciliary care services are bespoke and tailormade to meet the needs of you or your loved one. Our carers are compassionate, kind and patient and our aim is to enable our clients to remain living independently in their own home, where they are happiest.
We can provide everything from companionship, respite, personal care, dementia care through to end of life and palliative care. Our visits could be hourly calls through to 24 hour around the clock live-in care.
Our carers are all directly employed, fully DBS screened before starting, and COVID-19 PCR tested on a weekly basis. Our extensive in-house, ongoing training is recognised as exceptional; and our carers with their hands-on experience will provide outstanding quality homecare for you or your loved one.
Unique Senior Care was launched more than 10 years ago by Philip Maundrill and Philip Wright-Howarth, following their personal experience of the challenges and worries of arranging care for close family members who were living with a Learning Disability and Dementia. Their vision was to provide an outstanding service that put our clients and employees at the heart of everything we do, by consistently putting 'people above all else' and with the aim of providing the very highest quality homecare.
Our carers are here to make your life easier and help with making your life easier with some of the things you may now be finding a little more challenging such as getting up in the morning, or preparing your favourite lunch, some home help – or enabling you to enjoy your hobbies or interests, attend a social event or visit a café to enjoy a cup of tea and a slice of cake.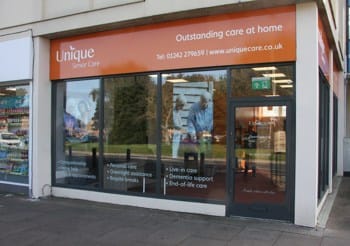 Give us a call on

01242 279 659

to hear more about how we can help.
So, why are we different?
We firmly believe quality should not be rushed with 15 or 30 minute calls, so our calls are a minimum 1 hour duration.
As you would expect, our aim is to turn up on time – every time.
If a carer does not pass our 'Mum Test' they are not for us - as we expect them to look after our clients as if they are their own loved ones.
Wherever possible, we will not send a stranger – our aim is to send the same person.
Our staff do not wear uniforms – so when they take you out, they will look like family or friends.
Our reputation is of great importance to us – so we won't compromise on our standards.
Services we offer in the Churchdown area:
All of our services are tailormade to ensure we meet the unique, individual needs of our clients.
We can provide daily hourly domiciliary care visits or longer or more numerous calls each day if your needs are greater or you require more company. Overnight waking or sleeping calls can be provided in the event there are concerns about being left at night.
Hourly care calls can provide assistance with washing, dressing, meal preparation, companionship, respite or more specialist care for those with complex needs. We will always work closely with you and your family to regularly review your care plan to ensure it reflects any changing needs.
Sometimes, hourly care may not be the ideal solution for your needs, and in these circumstances Live-in care may be more appropriate; and enable you to remain living in the comfort of your own home. Live-in or 24 hour care can also be an alternative to residential care or a nursing home.
You can be assured that we will manage all of the employment related issues as (we directly employ all of our team members) our service is fully regulated by the Care Quality Commission (CQC) unlike many live-in 'introduction agencies' who work with un-regulated self- employed carers.
Why not call our expert team today on 01242 279659 to hear more about our we can help you and your family?
Hourly Homecare Visits in and around Churchdown
Whether it be dusting, a spring-clean, or running a shopping errand, our home help service is designed to provide you with a little everyday assistance.
This can also be a great way to introduce reluctant loved ones to the wider benefits of getting some help with their wider care needs.
Over the years, our companionship service has made a huge, positive difference to the lives of many of our clients. It is well known how the elderly can be impacted by social isolation and the subsequent effects on their health and well-being.
These visits can enable you to lead a more fulfilling life, whether that be to pursue an interest or hobby, visit a favourite café for a cup of tea, or attend an important family event or social occasion.
Companionship calls can be so enriching and thereby rewarding for our carers.
We recognise that Personal Care is exactly that – personal! So we will always be understanding and sensitive when supporting you with some of the more challenging day to day tasks like getting dressed, toileting, shaving or your medication management.
Your care support plan will be tailormade to ensure we respect your personal needs and choices.
Receiving a diagnosis of dementia can be life changing for both you and your loved one and specialist support may be necessary to assist with the effects and challenges of the condition.
We have an experienced and highly trained team to support our carers including a Memory Support Worker, Dementia Champions and a knowledgeable Learning and Development department.
It is likely that a wider health team including GP's, Admiral and District Nurses may be involved in your loved one's care, so we will work closely with all agencies to ensure any changes in condition are discussed so that any necessary adjustments can be made to the care arrangements.
Informal (unpaid) carers provide much needed support for many people living with care and in some instances with very complex needs.
Our respite homecare can provide much needed relief from the daily challenges and stresses of providing care for a loved one, neighbour or friend.
This could be anything from an hour a day to a longer daytime call, to several visits per week or an overnight call so that you can benefit from some much-needed rest. If a longer respite break is required, we can provide a Live-in or 24-hour service.
Palliative/end of life care
When a loved one is moving towards their end of life, this will probably be one of the most worrying and distressing times for you and your family.
We are able to help you at this difficult time and we are very experienced at providing the special needs associated with delivery of highly compassionate, sensitive and kind palliative care. We will work with your loved ones wider care team to ensure they are comfortable and receive the very highest level of care.
Our aim is for you and your family to be able to spend as much time as possible together.
People with complex needs can require specialist care that is supported by a detailed understanding of the individual condition.
Our hourly and Live-in carers can support those with cancer, learning disabilities, multiple sclerosis, Parkinson's, or those who have suffered a stroke.
We will ensure that your specialist requirements are always provided safely and with a thorough focus on your needs.
Meet Faye, our Registered Care Manager for Churchdown
We are very proud that Faye is our Registered Manager responsible for our services in Churchdown and Cheltenham.
With over 20 years of experience in care, she is highly passionate about care and started her career in care at the age of 16 when she started work in a care home whilst still studying at school. She quickly decided that elderly care was going to be her chosen career, so she attended college to study for her Health and Social Care qualifications.
Having worked in a number of senior positions in different care settings, Faye has experience in stroke rehabilitation, Parkinson's and elderly care.
Faye loves to support her team and encourages them to really get to know their clients and learn about their interests and life stories. She believes that this enable her team to deliver the very highest quality of care and allows our clients to live their lives in the way they choose.
Outside of work, Faye enjoys spending time with her husband, family and friends, as well as trips abroad in order to visit places off the beaten track.
Debbie
Regional Care Manager
92 Edinburgh Place
Cheltenham
GL51 7SE
Monday – Friday 08:30am-8:00pm
To talk to a member of our team about how we can help you. Someone is available to discuss all Care enquiries 24 hours a day, seven days a week.