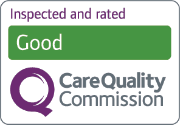 Unique Senior Care in Gloucester
Nestled between the stunning Cotswolds and verdant Forest of Dean, the stunning cathedral city of Gloucester enjoys an abundance of museums, festivals, landmarks and sports events. There is an incredible range that everyone can enjoy.
The Gloucester team at Unique Senior care provide a range of tailormade, domiciliary hourly and live-in homecare services that are all designed to meet your individual needs.
Yourself or your loved one will receive bespoke care that is always delivered with kindness, compassion and respect that will enable you to continue living in your own home, where you are most comfortable.
Regardless of how simple or specialist your needs are, we can provide hourly calls for companionship, respite care, personal care and dementia care through to live-in or palliative/end of life care. Our aim is to always provide safe care with patience and dignity.
Our directly employed carers complete regular LFT Covid-19 tests and are fully DBS checked before they start their employment with us. They receive high quality on-going training and are experienced, compassionate and have all the hands-on experience to provide the highest quality domiciliary care.
Directors Philip Wright-Howarth and Philip Maundrill opened Unique Senior Care ten years ago having experienced what it was like to be responsible for the care of their loved ones who were living with Dementia and a learning disability. This poor experience led them to want to create a high quality homecare service where the client and their families were put at the heart of everything and the companies motto was set as 'People above all else'.
We understand that in many instances our clients want us to help them do some of the normal things that make their lives easier, and our services are designed with this in mind. Whether it be cooking a nutritious meal, support with getting up in the morning or making the house tidier, we can also support you to attend a social event, or socialise with friends at a dementia café.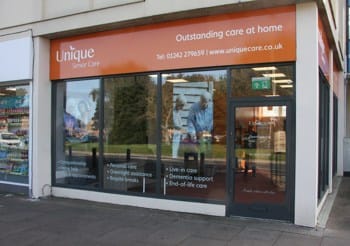 Call us now on

01242 279 659

to hear more about how we can help you.
So, why are we different?
You can be assured that we will turn up on time – every time.
Our staff do not wear uniforms, they wear their own clothes so that when they are out with clients they look like a family member or friend.
As far as possible, we will send the same person each time and never send a stranger.
We only employ people who pass our 'Mum Test' which means we would allow them to look after our own Mum.
In our view, quality care cannot be delivered in 15 or 30 minute slots – so our minimum call durations is 1 hour.
Most of our clients come to us as a result of our reputation and so we will never change our high standards.
Services we offer in the Gloucester area:
Your domiciliary care calls are tailored to your needs and can be anything from an hour a day to several visits per day (or week) and we often provide longer calls to provide our clients with extra company. Leaving your loved one alone at night can be concerning, so we can also help with waking or sleeping night support too.
So, we can be available day and or night and our services are bespoke to your individual needs, which means we provide support when you need it and at times that are convenient to you and your routine. Our hourly carers can help with companionship, respite care through to live-in care and palliative or end of life care.
Our bespoke approach means our care plans will be tailormade to reflect your needs and only prepared when Carolyn our Registered Manager has met with you and your family.
When your loved ones needs increase to a point where domiciliary care may no longer be a suitable option, we offer an alternative solution to a residential care home or a nursing home.
Our live-in or 24 hour care service may be a more cost-effective replacement. We are able to provide all the care and support your loved one requires - whilst allowing them to continue to remain in their own home surrounded by the things they love.
Our live-in carers are experienced in really getting to know their clients' preferences and routines, and will be able to re-assure them that all the care they require is on hand when it is required.
You can rest assured that we will take care of everything. We employ all of our carers directly, and our service is regulated by the Care Quality Commission (CQC), unlike some other agencies who supply self-employed and unregulated carers.
Call our expert team today on

01242 279 659

to hear more about our Live-in Care service and how we can help you and your family?
Hourly Homecare Visits in and around Gloucester
We understand that your loved one may not be ready for domiciliary care yet.
However, they may benefit from a little support around the home, and in this instance, we are able to help with our home help service where some hoovering, dusting or a general spring-clean would help now and again.
Our friendly team can provide the help that is required to ensure your home is kept in tip-top condition.
We also have staff who love to cook, so if a tasty nutritious meal is on your list of requirements, then just let us know.
Our companionship service can make a huge difference to the everyday lives of our clients.
It is well-known how self-isolation and loneliness can have such a negative impact on the health of the elderly and that is why our companionship is a core part of service.
We can be on hand to provide much needed social engagement and to facilitate the opportunity to pursue a hobby or life-long interest, attend an appointment or family event, or to simply go out and have a cup of tea at your favourite place.
Our team love companionship calls and find them so rewarding when they are able to allow their clients the opportunity to re-connect with the things they enjoy – or just experience quality social interaction.
For some, nothing can be more private and sensitive than personal care, and everyone at Unique Senior Care fully understand this.
You can be assured that our experienced staff will use their training to ensure they are sensitive and provide your care safely and with empathy. Daily tasks such as getting up and dressed in the morning, toileting, washing, shaving and medication management can all be helped with your care support plan will be designed to reflect your individual needs and preferences.
The onset of dementia can be devastating and worrying for you, and life changing for your loved one.
Our team of specialist trained hourly and live-in carers are to help you and your family member. They are supported by a full-time Memory Support Worker, Dementia Champion and a Learning and Development team with an extensive understanding of dementia.
Coordinated care with any wider health team including GP's, District and Admiral Nurses, pharmacists and other professionals is vital to ensure any condition changes are reviewed and incorporated within the care plan.
'Informal' carers play a hugely important role in providing care to someone with a disability or health condition and we fully understand the responsibilities and pressures that this can bring.
Our respite homecare service can provide a much-needed break from the demands of looking after a loved-one, friend or neighbour.
We can help by providing an hour of help a day – or longer if required. We can also support with overnight care with a waking or sleeping call to allow you to benefit from some much-needed rest. If a longer extended break is required, we can provide a full-time or live-in carer.
Palliative/end of life care
When a loved one is approaching their end of life, this can be a hugely upsetting and distressing time for their family, so we are able to help with the specialist care and support when you need it most.
At this difficult time, you need experienced, well trained, compassionate and kind carers who will provide as much specialist care and support as is required.
Our team will work alongside the wider health team involved in your loved ones palliative care to ensure they are comfortable and that you and your family are able to spend as much time with them as possible.
People with complex, specialist needs require care from people who fully understand their condition and we are experienced in looking after clients living with Parkinson's, a learning disability, MS, a stroke and mental health issues.
Whilst their needs may be complex or require specialist care, our experienced carers will still ensure that they are supported with patience, understanding and dignity to enable them to live their lives how they choose.
Meet Carolyn, our Registered Care Manager for Cheltenham and Gloucester
Carolyn is responsible for our service in Cheltenham, Gloucester and surrounding areas – and has a wealth of knowledge and experience in caring for the elderly following her 15 years' working in health and social care.
Over the years, she gained experience within residential care homes and nursing homes, specialising in elderly care and has benefitted from a wealth of training.
Working her way up through roles starting as a Support Worker through to an Area Manager and gaining qualifications in dementia care and mental health awareness, as well as her Level 5 in Health and Social care, Carolyn enjoys learning and developing herself and is currently studying towards her Level 7 in Health and Social care.
Carolyn is very passionate about the care people receive and ensuring all clients get the high quality care they deserve. She enjoys working with her team and leading from the front, believing that everyone has a right to be happy with the care and support they receive. Carolyn enjoys making a difference to people lives and is always focussing on ensuring they receive a bespoke, outstanding service which ensures they are cared for with respect and dignity.
Unique Senior Care's ethos and values of always focussing on providing the very highest quality care for our clients is what attracted Carolyn to join the organisation.
Outside of work Carolyn enjoys spending time with my husband and 3 children. They have three very large dogs and enjoy taking them for long walks in the countryside.
Carolyn
Regional Care Manager
92 Edinburgh Place
Cheltenham
GL51 7SE
Monday – Friday 08:30am-8:00pm
To talk to a member of our team about how we can help you. Someone is available to discuss all Care enquiries 24 hours a day, seven days a week.