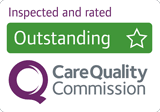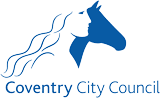 Unique Senior Care in Coventry & Kenilworth
Coventry, a thriving city and the UK City of Culture 2021, is known for its medieval Cathedral, which was left in ruins after a WWII bombing. There is a wealth of things to do and see in and around Coventry, and the city has something for everyone. Nearby Kenilworth is a picturesque town nestled in Warwickshire and is renowned for its historic Kenilworth Castle, which has stood witness to many significant events over the centuries.
With a wide range of domiciliary home care services including companionship, personal care and live-in care through to specialist condition led care, our total focus is on ensuring you or your loved one receive safe, compassionate care delivered with respect and dignity where you feel most comfortable ie home.
We have a highly experienced team in Coventry & Kenilworth and are proud to have twice received an Outstanding rating from the Care Quality Commission (CQC). This rating recognises our quality, relationship-based hourly and 24 hour live-in homecare that focusses on your or your loved ones needs and enables them to remain living independently at home.
Our carers are all directly employed, fully DBS checked and complete regular LFT Covid-19 tests. They are expected to pass our company 'Mum test' ie be caring, kind and compassionate and receive quality on-going training from our award winning Learning and Development Team. You can be assured that you or your loved one will receive high quality home care including hourly, 24 hour, specialist, respite or end of life/palliative care.
Unique Senior Care was formed 10 years ago by Philip Maundrill and Philip Wright-Howarth following their own very personal experiences of arranging care for their own loved ones. Their aim was to focus totally on quality and providing the sort of care that they wanted for their late Mother and Sister. Our service is designed to put 'People above all else' by learning through continuous improvement to ensure we deliver the very highest quality service.
We want to support our clients (and their families) to live their lives better and easier, which could mean helping them with their early morning or bed-time routines, meal preparation, support with medication or providing companionship to allow you to pursue an interest or hobby or attend an appointment or family event.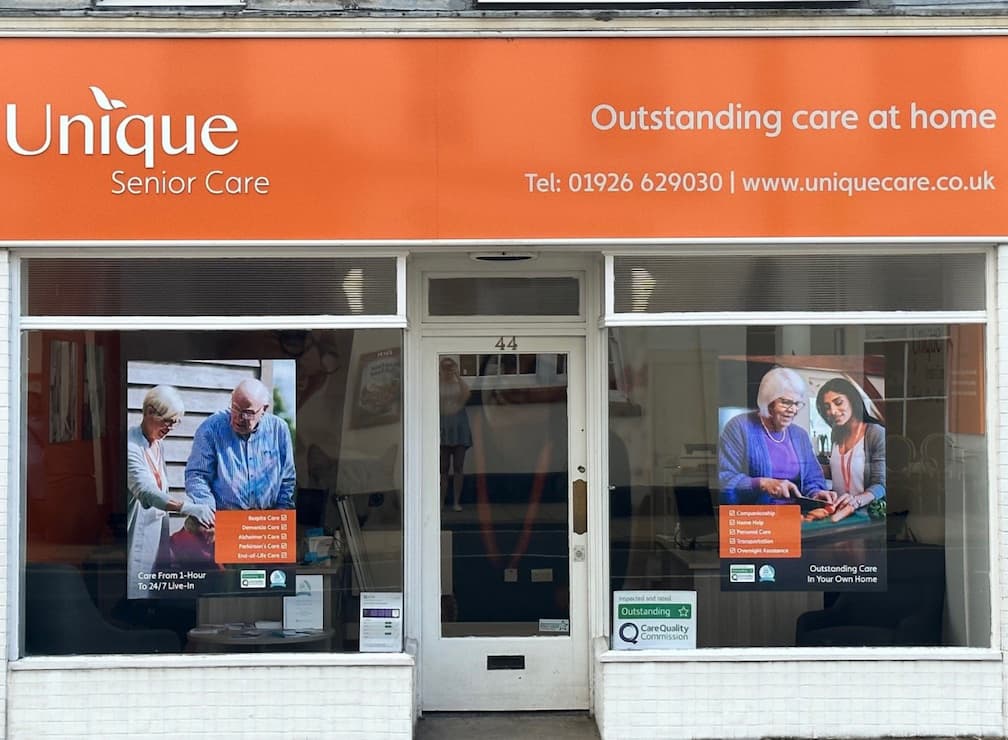 Whatever care help and support you require, give us a call, we're here to help. Call us on 0247 661 6262
We are rated Outstanding by CQC – less than 5% of home care providers have this rating.
We will arrive on time – every time.
Our aim is to never send a stranger – where possible we will send the same carer.
Quality care for us cannot be delivered in 15 or 30 minute slots – so our minimum call duration is 1 hour.
Our reputation is very important – so, as you would expect, our standards are very high.
All of our services are designed to allow our clients to remain living independently in the place they feel best ie in their own homes.
Our staff do not wear uniforms – so they look like family or a friend when supporting our clients in the community.
Services we offer in the Coventry & Kenilworth area:
Like us, all our clients are unique; so our hourly domiciliary home care services are all tailormade to fully meet their individual requirements.
Calls can be scheduled from an hour or more per day – to numerous calls per week. If you or your loved one needs peace of mind overnight, we can provide sleeping or waking night care in the event you or they have concerns about being left overnight.
We are available when you need us to provide support with your early morning routine, with home help or companionship to enable you to do something you enjoy. If your needs are more complex or specialist such as Dementia, Parkinson's or you have suffered a stroke, our experienced carers can help.
Like our services, our care plans are totally bespoke to your circumstances and are only prepared when Katie our Registered Manager has had a detailed discussion with you and your family to ensure we fully understand your choices and the outcomes you expect from our service.
In some circumstances, 24 hour or live-in care may provide a more appropriate and/or cost effective solution than an hourly care arrangement or moving to a residential care or nursing home.
Our fully managed live-in care service provides around the clock 24 hour care and support designed to enable you or your loved one to remain in the comfort of your own home.
Our directly employed, highly experienced carers will get to know you and your routine and preferences so they can then ensure you receive all the support you require and you will benefit from access to the care which will be available when you need it.
You will not have to worry about a thing as we take all the responsibility for the day to day employment and scheduling of your support team.
Moving to residential care or a nursing home may not be necessary as live-in care can be a very cost-effective alternative (particularly if a couple require support) and you can remain in the comfort of your own home.
Call our expert team on 0247 661 6262 and find out how we can help you and your family.
Homecare Visits in and around Coventry & Kenilworth
Home help can be an effective introduction to getting your loved one some initial support – as in some instances they may not feel ready to consider a care option.
So if some help around the house such as hoovering, cleaning or shopping will help, we can provide a friendly carer to keep the home looking lovely.
The health and well-being of the elderly can be significantly impacted by loneliness and self-isolation.
Our companionship service is a core element of the support we offer and can be an effective way to introduce care and support to loved one's who are reluctant to consider getting some help.
Companionship underpins our motto of 'People above all else' and it can make a huge difference to your loved ones well-being. It can provide an all-important opportunity to pursue a hobby or interest, or enjoy a social outing, attend an appointment or attend a family event.
Our experienced carers are trained to enrich our clients lives and you can relax knowing they are safe.
Getting up in the morning, bedtime, washing, shaving and medication can all be challenging everyday tasks for the elderly and those with complex conditions – but we are able to provide safe and caring support whenever this is required.
Personal care is just that: it's private and personal, and you can trust us to ensure your loved one is treated with dignity and compassion by carers who understand how to overcome the sensitivities that personal care entails for some.
850,000 people in the UK are living with dementia and as people are living longer, this number is increasing. A diagnosis can be life changing for the sufferer and devastating and life altering to the family of their loved ones. Managing and understanding the behavioural and demeanour changes of dementia can be upsetting and very worrying.
At Unique Senior Care we have extensive experience of providing care and support to those living with dementia. Many of our team are Dementia Champions and we employ a full time specialist Memory Support worker to provide specialist support. Our hourly and live-in carers receive ongoing specialist training to ensure they are equipped with the skills to manage the needs of our clients who are living with memory issues.
Effective, responsive dementia care requires close collaboration between all health system partners ie GP's, District Nurses and specialist agencies so you can depend on our office support team and carers to ensure any observations are discussed so that where necessary the clients support plan can be amended.
Informal carers provide a huge source of support to their loved ones and this brings with it many challenges and responsibilities. This can be very difficult and our Respite service is designed to give you a much needed break from the everyday demands of looking after your loved one.
This can be an hour a day through to a few hours per day or week or overnight support to provide much needed sleep. Our hourly and live-in carers can give you the respite break you need.
Palliative/end of life care
Palliative or end of life care is care and support that requires carers with specialist training and experience, together with a range of personal qualities. We are very experienced at providing palliative care that is compassionate and sensitive – when you need it most ie at this very distressing time.
Our carers provide end of life care that is kind and patient and they will liaise with other specialist nursing teams to ensure your loved one is looked after with dignity and all the support they require.
Our aim is to enable you and your family to spend time with your loved one.
We have developed a detailed understanding and knowledge of providing care for people living with specialist, complex conditions such as Parkinson's, MS, Cancer, Learning Disabilities, or for those who have suffered a stroke.
Our hourly and live-in carers have received specialist training and are experienced in providing the care and support required to enable our clients to potentially remain living in their own home – and avoid the need to move into residential care or a nursing home.
Meet Katie, our Registered Care Manager for Coventry & Kenilworth
Katie is the Registered Manager and responsible for our Care Quality Commission (CQC) Outstanding rated service in Coventry & kenilworth.
With over 17 years of experience in nursery and elderly care, Katie left school and worked in an early years' nursery.
Sadly, her grandfather was diagnosed with vascular dementia so Katie helped her grandmother provide care and support for him – whilst also working at the nursery. After he passed away, she realised that she would like to make a full-time career of elderly care and joined Unique Senior Care as a carer.
With no qualifications, Katie was identified as a potential 'leader of the future' and joined our talent development programme which provided her with a wide array of training and support. She is currently working towards her Level 5 in Leadership and Management in Health and Social Care.
Katie lives our ethos and vision and values always seeking to put 'People above all else' – whether that be our clients, their families or her colleagues. She says "the part of her job that she enjoys most is meeting new and existing clients to see what we can do to enrich their lives and see the outcomes that we can achieve for them"
Outside of work, Katie has an 18 year old daughter and she loves going on holiday and exploring new places.
Katie
Registered Care Manager
Emma
Field Care Supervisor
Sharon
Field Care Supervisor
44 The Square, Kenilworth
Warwickshire, CV32 1EB
Monday – Friday 08:30am-8:00pm
To talk to a member of our team about how we can help you. Someone is available to discuss all Care enquiries 24 hours a day, seven days a week.