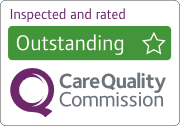 Unique Senior Care in Solihull
Solihull has been voted as one of the best places to live in the UK with its excellent shopping, schools and amenities.
Based in Knowle, Unique Senior Care provides a wide range of domiciliary homecare services in Solihull, Knowle, Dorridge, and all the surrounding areas. Our sole focus is to provide you and your loved one with the very highest quality elderly care delivered with patience, kindness and compassion, that allows you to remain living independently in the comfort of your own home.
The tailormade services we deliver are regulated by the Care Quality Commission (CQC) and can include everything from companionship through to respite and palliative or end of life care.
Our number one priority is that you or your loved one receive care that is safe and we will always ensure that our carers are kind, caring and compassionate, and all our employees are fully DBS checked.
The minimum expectation for our carers is that the pass our 'mum test' as we expect them to treat our clients as though they were their own loved ones.
You should expect our carers to have thorough, on-going training and this is what equips them with the skills to provide you with the very best quality homecare in Solihull – with our hourly and live-in care that includes companionship, personal care, specialist care and palliative/end of life care.
Our Directors Philip Wright-Howarth and Philip Maundrill have personal real-life experience of the challenges of managing care for a loved one. They believe that care is personal and have one clear aim for our clients – to provide the quality of tailormade care that they had wanted for their loved ones.
With our on-going focus on quality, our motto is 'People above all else' and our ethos is based on continuous improvement and learning so that our everyday practices can evolve and ensure we are providing an outstanding service to both our clients and their families.
We believe our clients should be able to live their lives as they choose, so our services are designed to enable them to do this. This may include helping them with their getting up in the morning or preparing for bed in the evening, or assisting with preparing a meal or medication or simply enabling them to do the things they enjoy but find a little more difficult.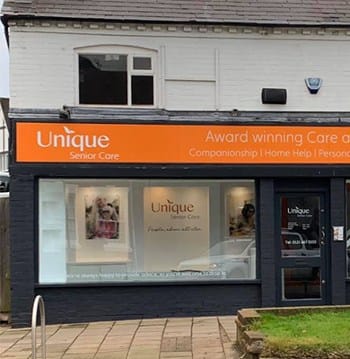 Call us now on 0121 667 5555 to hear more about how we can help you.
So, why are we different?
We will arrive when you are expecting us – on time every time.
Our services are designed to support our clients to live their lives as they choose.
Experience tells us that consistency and continuity of carer leads to happier clients and more rewarding work for our carers – so our aim is to try and send the same person.
Quality care cannot be delivered in 15 or 30 minute slots – so our minimum call is 1 hour.
We don't put our staff in uniforms – we want them to look like a family member or friend.
You would rightly expect our standards to be very high – as is the importance to us of our reputation.
Services we offer in the Solihull area:
Our hourly domiciliary care services are all designed to meet the unique needs of our clients.
You can schedule an hours call per day, or more if that is required; and we can provide additional peace of mind overnight with our waking or sleeping night service should you be worried about being alone overnight.
We believe that quality homecare needs to be bespoke so that you receive the service you require how and when you need it. We can help with companionship, dementia care and specialist care for complex conditions and end of life and palliative care.
Your tailormade care plan will incorporate your unique and individual needs and will be prepared when Debbie, our Registered Manager has met with you and possibly your family.
It is important we fully understand your circumstances, preferences and dislikes so we can provide the most appropriate service.
Sometimes live-in or 24 hour care can be a better way of meeting your needs than an hourly service. It can also be a more cost effective solution then moving to a nursing home or into residential care.
All of our directly employed live-in carers are experienced and will quickly get to understand your preferences and routines, so you can benefit from the help you need – when you need it.
So, you can remain in the comfort of your own home, surrounded by the things you love and be supported with our live-in care service providing all the care you require.
You can be assured that you will be receiving care from a regulated provider and that we will manage all the day to day issues, so you will not have to worry.
Whatever care help and support you think you require, give our team a call on 0121 667 5555
Hourly Homecare Visits in and around Solihull
With our home help service, our friendly carers can ensure your home is kept clean and tidy by hoovering, cleaning or giving it a good spring clean. They can also complete any shopping tasks to make your life easier.
We know that your loved one may initially be resistant to receiving care so an occasional home help visit can be a great way to overcome those initial barriers.
Personal care can be one of the most difficult areas for your loved one to come to terms with – after all, it is exactly that ie personal and private.
We obviously recognise this, so you can be assured that we will be sensitive and understanding to any concerns that your loved one may have about personal care.
They will provide safe, caring and dignified support that will support with morning and evening routines including washing/bathing, dressing, toileting, shaving and assisting with medication.
All too often, we sadly hear about the negative impact that loneliness and self-isolation can have on the elderly or those living with specific conditions.
Our companionship is at the heart of our service and we regularly see the huge and positive difference it can make to the well-being of our clients.
Whether it be social engagement, attending a family or social event or appointment to supporting your loved one to maintain their interests and hobbies.
Our popular companionship service can make such a difference to the well-being of you or your loved one. It can provide the opportunity for social engagement, help with attending a family event or appointment or allow you to maintain your interests or hobbies.
Companionship calls are thoroughly rewarding for our carers, as they see the positive impact they make for their clients and how this enriches their clients lives.
A diagnosis of dementia can be devastating to the family and life changing for the sufferer.
The related changes in personality, mood and confusion can be very distressing; so a full understanding of dementia is required to manage these issues effectively.
We have extensive knowledge and experience of how to provide care to those living with  memory issues. With a team that includes a Memory Support specialist, Dementia Champions and a highly qualified learning and development team, our care team receive the very best training and on-going support to ensure they can provide the very best care to our clients living with dementia.
Close collaboration is required between all health partners involved in the care arrangements (GP's, Admiral Nurses, specialist agencies etc) and we will ensure that our team liaises with these partners to share any observations.
Being an 'informal' carer brings with it huge responsibilities and challenges whilst providing much needed care and support
Respite can ensure much needed breaks can be taken from the day to day demands of looking after a loved one. From an hour (or more) per day to help with overnight sleeping or waking support allows some much needed quality sleep; our hourly and live-in carers are able to help with your respite needs...
Palliative/end of life care
We are available when you need it most – at the very difficult time when your loved one requires palliative or end of life care.
With our experienced palliative/end of life carers, you can have the peace of mind that your loved one will receive highly dignified, compassionate and sensitive care. They will be kind, patient and liaise with the other specialist nursing teams to ensure your loved one is receiving all the care required to ensure they are comfortable.
We want you and your family to spend as much time as possible with your loved one.
We have developed a detailed understanding of a wide number of complex conditions that require specialist care.
This has provided us with a lot of experience of the requirements to provide safe, effective care to those living with these conditions. Our domiciliary hourly homecare and live-in carers receive the necessary training to care for people with Parkinson's, multiple sclerosis, learning disabilities or may have suffered a stroke.
It is important that we coordinate your care with any other specialist agencies involved – and our aim will always be to enable you to remain living independently in your own home.
Meet Lisa, our Registered Care Care Manager for Solihull
Lisa has been a dedicated professional in the care industry for over two decades. Her career began in dentistry, eventually transitioning to adult social care. For the last 10 years, she has excelled as the Head of Care for a regional domiciliary care provider.
Family is at the heart of Lisa's life, and she understands the significance of selecting the right individuals for caregiving. She finds immense joy and considers it a privilege to support people in their homes, recognising the time and trust required to build meaningful connections.
Outside of her professional endeavours, Lisa is a devoted mother to three boys. Her interests include practicing reiki and caring for her pet Royal python snake, Ember. Lisa is proud to be part of her team and is excited to make a positive impact on the lives of clients and caregivers alike.
Lisa
Registered Care Manager
Victoria
Care Co-ordinator
Unique Senior Care
1584-1586, High Street,
Knowle, B93 0LF
Monday – Friday 08:30am-8:00pm
To talk to a member of our team about how we can help you. Someone is available to discuss all care enquiries 24 hours a day, seven days a week.