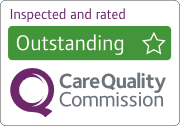 Unique Senior Care in Henley in Arden
Henley in Arden is an historic town with abundant medieval architecture and plenty to do on its mile long High Street. As one of the safest towns in Warwickshire, it is a perfect place for the elderly to enjoy spending their time.
Our highly experienced Henley in Arden team are on hand to provide you or your family member with a wide range of high quality home care services which can be tailored to meet your needs.
From hourly care to 24 hour live-in care, and anything in between, our dementia care, companionship, home help and specialist conditions care are all delivered with compassion, sensitivity and respect, to enable you to live independently at home where you feel the happiest.
Our compassionate carers are all fully DBS checked, directly employed and receive a wide range of on-going training from the Unique management teams. Their hands-on experience ensures you or your loved one will receive high quality person-centred home care services with daily visiting care calls, overnight calls, respite support and palliative/end of life care .
Unique Senior Care was opened by Philip Wright-Howarth and Philip Maundrill, owing to  their very personal experience of taking care for close family members. One of whom was living with dementia and the other who had a learning disability. They wanted to provide a quality home care service that was very personal and that always put 'People above all else'
Our team are here to help with the things to make life easier; such as preparing a meal, or to do some light house-keeping, or perhaps to help you get out and about, or get up and ready for the day ahead.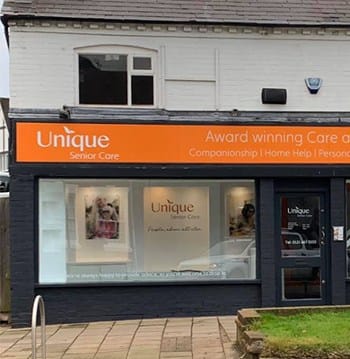 If you are looking for a little or a lot of support, give us a call, we're here to help. Call us on 0121 314 2582
Every week our carers complete a weekly PCR test for COVID-19.
Our view is that quality care cannot be effectively delivered in 15 or 30 minute slots – so our minimum call duration is 1 hour.
You can rely on us to turn up on time – every time.
We will not send a stranger and as far as possible, our aim is to always send the same person.
Our carers do not wear uniforms, this ensures they just look like family or friends who are visiting or out and about with our clients.
Our reputation for providing outstanding care is very important to us and we will never compromise our standards.
Our live-in service is designed to allow our clients to remain living where they want to ie in their own home.
Services we offer in the Henley in Arden area:
Our domiciliary, home care calls can be an hour a week, through to a few calls per day every day, or longer visits should you need some additional company. We can also help with overnight care visits to address any concerns you may have about being alone at night.
So, we can be on hand day or night to help with a daily care call to assist with washing and dressing, to prepare a meal or to provide some companionship. If you have more complex needs such as Dementia, Parkinson's or you have suffered a stroke, we can help.
All of our care is designed to complement your loved ones unique personal and lifestyle needs and where necessary we always work with the wider family to create a care plan that addresses the clients preferences and personality.
If you have reached the point in your life where your needs for care and support have increased to a point where you are considering moving into residential care or a nursing home, this should not be, and isn't the only option. There is an alternative solution.
With our fully managed live-in care service, our experienced team are able to support you  around-the-clock, to live comfortably and confidently where you would prefer – in your own home.
Your carer will get to know you and your routine and be on hand to support your needs. This means you are able to remain in the comfort of your own home and live independently for as long as possible in the knowledge that help is on hand when you need it.
With Unique Senior Care Live-in care, you will not need to worry about a thing. We will take care of providing one of our directly employed carers (we are not an introductory agency and do not work with unregulated self-employed carers) and we will sort out the day to day challenges.
Live-in care can also be a cost effective alternative to residential care or a nursing home – especially where a couple both need support.
Whatever help and support you think you require, give us a call, we're here to help. Call us on 0121 314 2582
Hourly Homecare Visits in and around Henley in Arden
If you need a little help around the house, we can help with our home help service, so if some dusting, vacuuming, cleaning and shopping or a little spring clean would help, our friendly team can provide you with the domestic assistance to ensure your home is kept in lovely condition.
Sometimes, our home help service can be an alternative introduction for those elderly loved ones who are a little hesitant about considering wider care and support.
What about a good home cooked meal? This is no problem for us.
Social isolation and loneliness can have a major impact on the health and well-being of the elderly.
Our companionship service is designed to enable your loved one to benefit from a social call visit (or a few visits a week) to enable them to maintain interest in their hobbies or interests – or to visit a favourite location, family event that requires a little more support, or appointment.
Everyday tasks such as getting up, getting dressed and washed, and coupled with remembering to take the correct medication can all be challenging as we get older.
At Unique Senior Care, we are here to provide assistance and support when you need it and our aim is to support our clients to enable them to remain living in their own home and live fulfilling lives.
We fully understand that personal care is just that: it's personal, and for this reason you can be assured our carers will provide care with understanding and dignity.
A diagnosis of dementia can be life-changing for both our clients and their families.
Changes in your loved ones behaviour, demeanour and memory and concerns over the onset of dementia can be devastatingly worrying for you and life-altering for your loved one.
We have a wealth of knowledge and our team of Dementia Champions, dedicated Memory Support Worker and dementia trained hourly and live-in carers will work alongside you and the wider health support agencies – the GP, District Nurse and others, to ensure your loved one receives appropriate, compassionate care.
Being a main carer can bring huge demands and be worrisome. We understand these issues.
Respite homecare can provide you and your family with much needed temporary support to enable you to take a short break from the challenges of providing care for your loved one.
These breaks can provide you with an hour's break a day (or longer if you require) or an overnight stint to enable you to get some rest and a good night's sleep – or we can provide a full-time carer for a week or two. We'll be on hand, whatever you need.
Palliative/end of life care
Facing the need for end of life or palliative care can be a very distressing and emotional time for families. We understand this and are very experienced at providing the specialist care and support when you need it most.
At this time you need experienced, kind, compassionate and discrete carers who can provide daily or around the clock care, whether that is to spend time with your loved one, help with medication, or prepare a meal. We want you to make the most of each moment and be able to spend as much time together with your loved one whilst we work alongside your wider health team, hospices, District Nurses and your Doctor ensuring the very best care for you and your loved one.
Complex conditions require tailored care and support from an experienced and well-trained care provider.
We offer a wide range of person-centred domiciliary care services for people living with specialist conditions such as a learning disability, Dementia, Parkinson's, Multiple Sclerosis or those that have suffered a stroke.
You may have a specialist need but our aim will always be for our expert carers to provide you with the specialist care and support your condition requires and enable you to remain living independently at home – so there is no need for you to consider moving to a residential care setting or nursing home.
Meet Claire, our Registered Care and Live-In Care Manager for Henley in Arden
Claire has been working within the Live-In sector for 6 years. Prior to this she was a Care Co-ordinator. She also worked as a personal assistant previous to having a family and doing her NVQ Qualifications in Health and Social Care.
Claire loves meeting with carers and clients and her biggest aim is for all her clients and carers to feel supported and valued. She always wants to give a VIP service and would like for all her carers to be open and transparent with her and know they can contact her about anything.
She has a busy social life with her family and friends living in London, where she is originally from. Claire is the youngest of 11 siblings and has 2 girls of her own. Claire loves dog walks, running and enjoys cooking.
Claire
Registered Care Manager
Victoria
Care Co-ordinator
Unique Senior Care, Suite 5A & 5B, Hatton Rock Business Centre, Hatton Rock, Stratford-upon-Avon, CV37 0NQ
Monday – Friday 08:30am-8:00pm
To talk to a member of our team about how we can help you. Someone is available to discuss all Care enquiries 24 hours a day, seven days a week.