Our Learning & Development team here at Unique Senior Care run a Workforce Champions Program which is designed to generate deeper knowledge of subjects and conditions that play an important role in the wellbeing of our home care clients: Nutrition & Hydration, Dementia, Dignity and Medication, H&S and Wellbeing, Equality & Diversity, Safeguarding & Mental Capacity and now our newly created Covid-19 Champion.
Our visiting care-at-home branches, Stratford-upon-Avon, Cheltenham, Solihull and Coventry, along with our Warwickshire based Extra care sites, have designated Workforce Champions for each subject matter.
Our Nutrition & Hydration Champions are always coming up with fun ways to keep our clients and colleagues healthy, and we wanted to share their knowledge and wonderful meal ideas with you.
This month, Caroline, the Nutrition & Hydration Champion for our Warwickshire community, has kindly shared the below recipe and tied in some seasonal produce – Butternut Squash.

Butternut Squash Winter Salad
Serves 4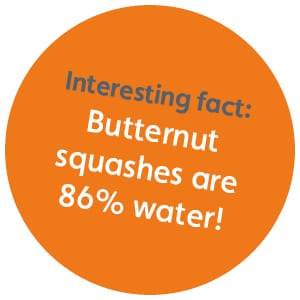 Ingredients:
1x Butternut Squash
2x 400g Tin of Green Lentils
1x Pack of Feta
Handful of pumpkin and sesame seeds
For the dressing:

Mint
Basil
6 tbsp Olive Oil
2 Lemon
Pinch of Salt and Pepper
2 tbsp Red wine vinegar
Method:
Preheat the oven to 180 C / Gas Mark 6.
Remove the stalk, skin and seeds and chop the squash into 2cm chunks, toss in olive oil and roast for 40 mins.
Prepare the dressing, put the olive oil, vinegar, lemon juice, mint and basil and the salt and pepper into a small food processor and whizz to make a smooth dressing.  If you don't have a small food processor, simply chop the herbs finely and put all the ingredients into an empty jam jar and shake.
Warm the lentils in the tinned water in a saucepan over a medium heat for 10 minutes.
Now you are ready to plate up.  Place the lentils on the plate, then the roasted squash, followed by crumbled feta and a sprinkling of the seeds. Finally drizzle the dressing over and enjoy!

Caroline Hackett
Nutrition & Hydration Champion | Warwickshire