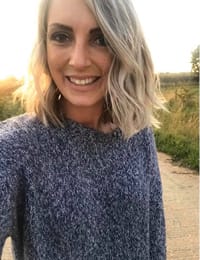 Louise Pendleton, Director of Human Resources at Unique Senior Care, sadly lost her life to cancer in 2019, aged 32. One year on, in honour of the legacy she left behind; a life lived with energy, fun and a passion for people, here at Unique Senior Care we decided to launch the 'Louise Pendleton Birthday Award.' This award recognises an outstanding employee who demonstrates characteristics that were important to Louise. 2020's winner was announced as Imogen Moore, a Carer and Team Leader, a year after Louise passed away, on what would have been her birthday, November 17th 2020. In addition to the award, Imogen received £2000, £1000 of which she chose to donate to Myton Hospice in memory of Louise and the cheque was presented to the hospice.
Myton Hospice was delighted to receive the £1000 charity donation.  Yasmin Audhali, Corporate Fundraiser at Myton Hospice (pictured above) said: "We rely heavily on the support of donations from individuals and organisations; donations, large or small, help us to reach more patients and families who need our specialist care and support. We were delighted and grateful to receive the generous £1000 donation from Unique Senior Care.  This year, with COVID-19 impacting fundraising activities, donations such as this are more important than ever to help keep our facilities open."

All Unique Care staff were invited to submit nominations and co-owners, Philip Maundrill and Philip Wright-Howarth had the difficult job of choosing the winner. Many nominations demonstrated outstanding commitment to our domiciliary care clients, across each of our community branches; Stratford-upon-Avon, Coventry, Cheltenham and Solihull as well as our Warwickshire-located Extra Care sites. All nominations were living Louise's values day-to-day, however Imogen was a stand-out nominee for always going above and beyond for her elderly clients, particularly during the pandemic.
"30% of our employees received nominations, which just goes to show how many colleagues Louise inspired. It also provides heart-warming evidence that supports our approach to carer recruitment, which focuses heavily on recruiting people who demonstrate our core values".  
Phillip Wright-Howarth
Imogen joined Unique Senior Care as a Carer in April 2016, quickly progressed to a Senior Carer role, and in 2020 was promoted again to the position of Care Team Leader. Imogen worked tirelessly throughout COVID-19 to help her clients feel less isolated and anxious. One example of her outstanding commitment was during the Macmillan 'world's biggest' coffee morning in September, a much-loved annual social and fundraising event. Despite the pandemic limitations, Imogen took the coffee to the clients' individual houses wearing full PPE.
"It is second nature for Imogen to go the extra mile and this is echoed across her team. Louise would be incredibly proud, the award is really deserved."
Phillip Maundrill, co-owner Unique Senior Care

Imogen works hard to ensure people are always put first, which is our approach here at Unique Senior Care. She is compassionate, caring and provides a truly unique at-home care service to each of her elderly clients; traits that Louise had in abundance, and values that she lived by every day.
About Myton Hospice
Myton Hospice provide high quality care to people whose condition no longer responds to other treatments, from diagnosis to death.